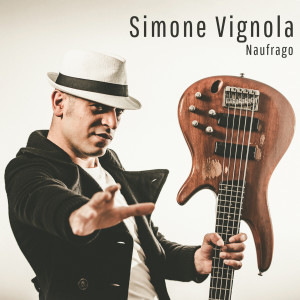 IT: "Naufrago" è il sesto album del bassista e cantautore italiano Simone Vignola.
E' un disco self-made in cui l'artista ha curato il lavoro a 360°: lui scrive e arrangia tutti i brani, suona tutti gli strumenti, realizza missaggio e mastering.
Le 13 canzoni inedite contenute nell'album scorrono facilmente all'ascolto spaziando tra l'emozionalità tipica del pop internazionale e l'inconfondibile ritmo funky di Vignola.
"Naufrago" è un viaggio in cui si cerca il modo per sopravvivere ad una disavventura senza focalizzarsi sul naufragio in se.
Questo disco è stato realizzato attraverso una campagna di fundraising di successo su Musicraiser.
ENGL: "Naufrago" is the sixth album by Italian bassist and singer-songwriter Simone Vignola.
It's a self-made record in which the artist has taken care of the work at 360 °: he writes and arranges all the songs, he plays all the instruments, he realizes mixing and mastering.
The 13 new songs contained in the album are easy be heard and range over from emotionality typical of international pop to the unmistakable funky rhythm of Vignola.
"Naufrago" means "Cast Away", it is a journey in which we look for the way to survive a misadventure without focusing on the shipwreck itself.
This record was made through a successful fundraising campaign on Musicraiser.