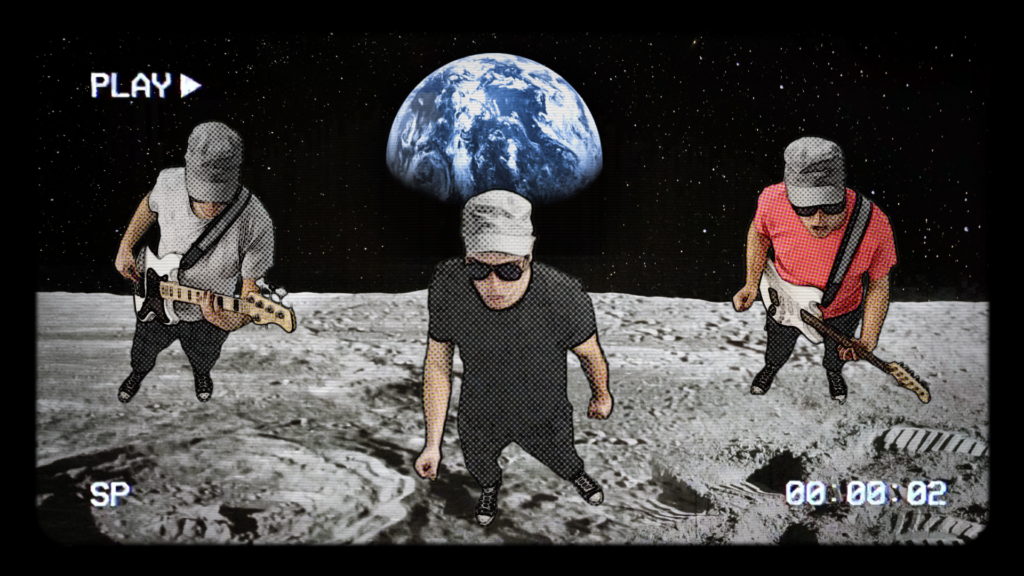 🇮🇹 Ciao amici, in questo video realizzo uno dei miei più grandi e utopici sogni: suono sulla Luna! Ecco un remake di "Sei nel futuro ormai", brano incluso nel mio secondo album intitolato appunto "Sulla Luna", un pezzo che meritava una seconda vita qui sul canale!
Ho sempre tenuto molto a questo pezzo che, nella sua verisone originale, ha un riff di basso pazzesco. Purtroppo però, devo dire, questo album è stato molto sfortunato e questa canzone è rimasta (paradossalmente) solo parte del passato. Nel fare alcuni esperimenti di green screen ho utilizzato una base su cui stavo lavorando, mentre l'ascoltavo mi è venuto di cantarci su questa melodia (davvero non so dove l'ha pescata la mia memoria). Inutile dire che nella scelta dello sfondo la mia attenzione è caduta subito sulla Luna, o meglio la Terra vista dalla Luna, una cosa che mi affascina terribilmente oltre che in modo atavico.
L'arrangiamento vede un riff di basso pizzicato suonato un modo ruvidoe ostinato, un synth percussivo che arpeggia, un pad morbido e una chitarra elettrica aurea nel mio solito stile. Il tutto si basa su un groove di batteria elettronica con cassa in quattro, molto basic. Un vestito un po' velato, non particolarmente ricco di merletti, ma che rende la canzone sicuramente più godibile della versione originale (che poi potete ascoltare ma senza grandi aspettative).
Spero di accompagnarvi in un momento spaziale intenso e di regalarvi un po' delle mie vibrazioni musicali, vi invito a visitare il canale e a condividere questo video sulle vostre pagine, oltre che a lasciare un like, qualora lo troviate giusto.
Un caro abbraccio dalla Luna e.. ci rivediamo sulla Terra! Simone
🇬🇧 Hi friends, in this video I make one of my biggest and utopian dreams come true: I play on the Moon! Here is a remake of "Sei Nel Futuro Ormai", a song included in my second album entitled "Sulla Luna", a piece that deserved a second life here on the channel!
I've always cared a lot about this piece which, in its original version, has a crazy bass riff. Unfortunately though, I have to say, this album was very unlucky and this song is now only part of my past. Some days ago, while doing some green screen experiments, I was listening to a new backing track I was working on and I suddenly start to sing this song. For the background my attention immediately fell on the Moon, or rather the Earth seen from the Moon, something that fascinates me terribly as well as in an atavistic way.
The arrangement features a fingerstyle bass riff played rough and ostinato, a percussive synth arpeggio, a soft pad and an electric guitar in my usual style. All this is played through a very basic electronic drum groove four on the floor. A slightly veiled dress, not particularly rich in lace, but which certainly makes the song more enjoyable than the original version (which you can then listen to but without great expectations).
I hope to accompany you in an intense spatial moment and to give you some of my musical vibes, I invite you to visit my channel and share this video on your pages, as well as leave a like, if you find it right.
A warm hug from the Moon and.. see you on Earth!
Simone