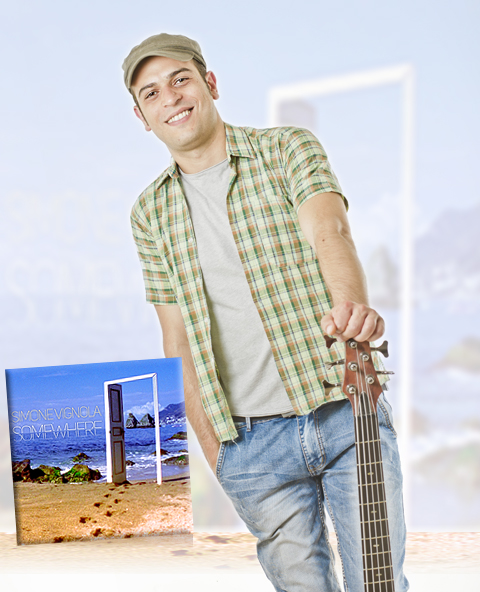 PH. Nik Soric Photographer © 2015 Areasonica Records | Cover photo: Angelo Pecoraro
Bassista, cantante e polistrumentista, Miglior Bassista Europeo Under 35 all'EuroBassDay nel 2008, Miglior Looper Italiano al BOSSLoop nel 2010, rappresentanza per Roland Italia al NAMM 2011 di Los Angeles: a soli 28 anni non ancora compiuti, Simone Vignola vanta già riconoscimenti e una carriera musicale da veterano, durante la quale ha condiviso il palco con artisti italiani ed internazionali del calibro di Level 42, Richard Bona, Jutty Ranx, Caparezza e Luca Barbarossa, solo per citarne alcuni.
Tre dischi distribuiti a livello internazionale già all'attivo ("Going To The Next Level" del 2010 è stato stampato in Japan Edition per la major nipponica King Records) con "SOMEWHERE" (Areasonica Records – Materiali Musicali) Simone giunge oggi al suo quarto lavoro discografico e si appresta di nuovo a far parlare di sé.
Perché SOMEWHERE – in ogni caso – è un disco che non può passare inosservato: piccolo gioiello d'intensità e di capacità creativa, album è stato realizzato interamente dal suo autore, che l'ha composto, registrato, missato, masterizzato e ne ha suonato tutti gli strumenti.
Dieci tracce che si infilano dritte nelle orecchie e non si riesce più a farle uscire, un groove pop che non è solamente un genere musicale, ma lo specchio di un modo di vivere e di intendere la musica, quello di Simone Vignola.
Tutto da ascoltare l'album, "You Already Know" il primo singolo dato alle radio.
E per iniziare in bellezza, anche un live molto estivo: la presentazione ufficiale di "SOMEWHERE" si terrà infatti nel pomeriggio di Domenica 19 Luglio al BAU BAU Village di Marina di Eboli (SA) – Music on the Beach – Siete tutti invitati a partecipare… e a ballare!
SIMONE VIGNOLA "SOMEWHERE"
Dal 14 Luglio 2015 su iTunes e nei più importanti store digitali internazionali
PRESENTAZIONE LIVE UFFICIALE:
19 Luglio 2015 @ BAU BAU VILLAGE – Music on the Beach
Marina di Eboli (SA) – POMERIGGIO – INGRESSO GRATUITO
– See more at: http://www.areasonica.com/areasonica/?p=8576